Our Three Promises To Customers

Taking a hint from European herbal teas, our company has focused on providing folk remedies like Alexandrian Senna to customers in tea bag form since its founding in 1977. At the time, folk remedies could only rarely be found in tea bags, and our products were warmly received. One of our mottos for making products is to "want the customer to continue using the product," and we have held to this since our founding. Toward that end, we have made three promises that we never allow ourselves to forget.

First, provide services and products that delight customers.
Second, never compromise in maintaining the same delicious flavor.
Third, keep prices low to spare household budgets.




Our primary export target is "Oomugi Wakaba", a drinkable green barley powder. Our primary product, it is a type of drink known as "aojiru" (green vegetable fiber juices) in Japan.
This aojiru is made exclusively with green barley sprout powder, for extremely high purity. This product is also additive-free.
The product's primary pack contains 22x3g packs of powder. Each pack is made by reducing 39g of green barley sprouts down to 3g of powder.
Roughly half of the powder consists of fiber, with the remainder consisting of vitamins, minerals, and other nutrients.
Our aojiru has two primary benefits:
(1)Digestive benefits (healthy weight loss)
(2)Remedies constipation
Nutrition Information
Commodity:Young Barley Powder
Serving Size:0.11oz(3g)
Servings Per Container:44(22×2)

Calories
Protein
Total Fat
Sugars
Dietary Fiber
Sodium
12Kcal
1.0g
0.2g
0.2g
1.24g
9.3mg
VitB1
VitB2
VitB3
VitB12
VitC
VitE
VitK
Biotin
Pantothenic Acid
Carotene
Folic Acid
Niacin
Calcium
Magnesium
Potassium
Phosphorus
Zinc
Copper
Iron
Manganese
Chromium
0.02mg
0.04mg
0.02mg
0.02μg
2.1mg
0.36mg
111μg
0.24μg
0.06mg
761μg
12μg
0.12mg
8.7mg
4.8mg
96mg
11.1mg
0.10mg
0.03mg
1.25mg
0.12mg
0.01mg

Aspartic Acid
Alanine
Arginine
Isoleucine
Glycine
Glutamic Acid
Cystine
Threonine
Serine
Tyrosine
Tryptophan
Valine
Histidine
Phenylalanine
Proline
Methionine
Lysine
Leucine
102mg
54mg
48mg
36mg
45mg
111mg
11mg
39mg
36mg
26mg
14mg
48mg
19mg
45mg
39mg
17mg
48mg
69mg
Octacosanol
Catechin
Caffeine
Gluconic Acid
Polyphenol
Chlorophyll
Lutein
SOD
4-aminobutanoic Acid
β1-3.Glucan
0.63mg
3.6mg
ND
99mg
40mg
23mg
1.62mg
1620unit
1.38mg
459mg

Recommended Ways to Enjoy Product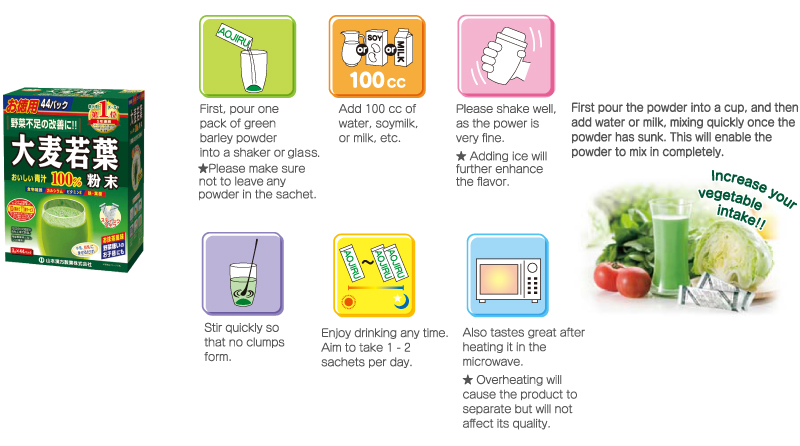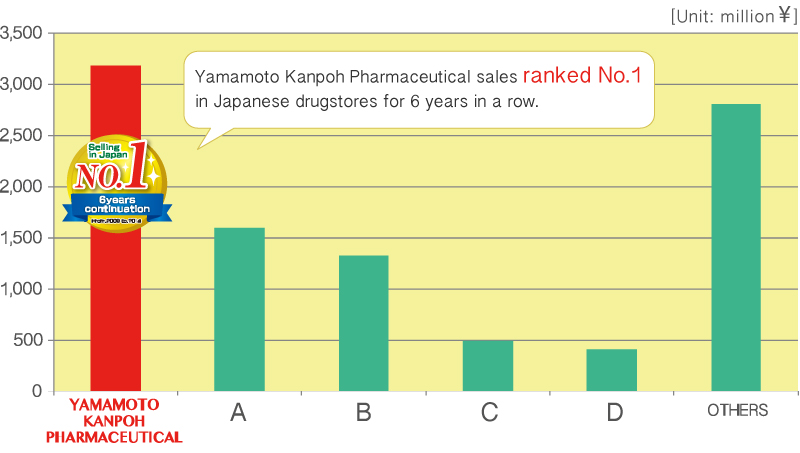 2014 Sales of aojiru in Japanese drugstores


Data from INTAGE, Inc. market research on Japanese retail drug market


| | | | | | | | |
| --- | --- | --- | --- | --- | --- | --- | --- |
| Mixers | | Tableting Machine Granule Packing Machines Pulverizers | | Granule Packing Machines Pulverizers | | Pulverizers | |
| | | | | | | | |
| Stick Pack Machine | | X-Ray Detector | | HTST Sterilizer | | Powder Filling Machine | |
| | | | | | | | |
| Roaster | | Jet Mill | | Production Line | | | |
We prioritize safety and peace of mind above all else. For more than 20 years we have carried out agrichemical inspections on all of our products, beginning with barley sprouts.

Based on the management structure pharmaceutical companies rely on, we conduct painstaking quality control in all aspects of the manufacturing process.

We only provide our customers with products that have cleared the most exacting of inspections.